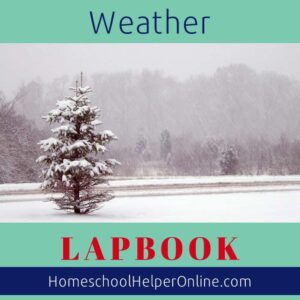 Teach your students all about the weather in this free weather lapbook.
We are all affected by the weather, but most of us don't really know much about what causes weather changes or how weather forecasts are made.
This learning folder contains 18 different printable activities all about the weather.
For junior high students who want to learn about the weather more in depth, check out this weather class schedule.

Here are the resources used in the Weather Lapbook:
These are the resources used to create this lapbook. If you can't find these exact books, you can use books available to you on the same subjects.
Weather Lapbook Activities:
Vocabulary – Here is a list of possible vocabulary words: greenhouse effect, convection, precipitation, hail, dew, frost, cloud seeding, troposphere, stratosphere, mesosphere, thermosphere, exosphere, condensation, highs and lows, wind velocity, air masses, fronts, squall lines, thunderstorms, tornado, hurricane.
Temperature – Record high and low temperatures; convert C to F and back.
Water Cycle – Draw and illustrate the water cycle. If you want to study the water cycle more in depth, here is a free water cycle lapbook.
Bible Verse – Write your favorite weather-related Bible verse. If you can't think of one, try looking up weather in Nave's Topical Bible.
Sayings – Write some popular weather idioms.
Meteorology – Write about the history of meteorology and about some of the tools used in meteorology.
Forecasting – Keep track of daily forecasted and actual temperatures for a week. Figure the meteorologist's accuracy.
Clouds – Write about the different kinds of clouds.
Extreme Weather – Write about tornadoes, hurricanes, and monsoons.
Thunder and Lightning – Write about the causes of thunder and lightning.
Fog, Frost, and Dew – Explain what causes fog, frost, and dew.
Rainbows – Write about rainbows.
Wind – Explain what causes wind.
Fronts and Lows – Explain what causes weather fronts and lows and how they affect the weather.
Symbols – Draw some weather symbols.
Atmosphere – Name and explain the 5 layers of the atmosphere.
Greenhouse Effect – Write about the greenhouse effect.
Precipitation – Explain the different types of precipitation.
Download the free printable templates for the lapbook.
Related Weather Pages: