With these Daily Weather worksheets, your students can record the daily temperatures in degrees Celsius or Fahrenheit.
The daily weather worksheet is perfect for introducing your child to the skill of reading a thermometer. After your child determines the day's temperature, let them record it on the chart.
The worksheet also has a space to glue an icon showing the type of atmospheric conditions your neighborhood is experiencing each day. (60 printables icons are included with the worksheets)
Then your child can easily turn this into either a bar graph or line graph with the color-coding key for recording cold, warm, or hot temperatures.
Some links in this post may be affiliate links. This means that if you click on them, I may make a tiny commission, at no extra cost to you. For more info, check our privacy policy.
Resources for your Daily Weather Worksheet
Indoor Outdoor Dial Thermometer (not digital)
Old-Fashioned Glass Outdoor/Indoor Thermometer Hygrometer
National Geographic Readers: Weather by Kristin Rattini
Oh, Say Can You Say What's the Weather Today?: All About Weather (Cat in the Hat's Learning Library) by Tish Rabe
---
There are three pages in this weather chart packet: one for recording the daily temperature in Celsius; one for recording in Fahrenheit; and one with 60 daily weather icons to cut out and glue into the top boxes of the chart to correspond with each day's weather.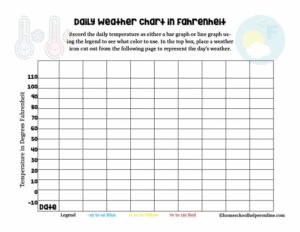 Download your copy of the Daily Weather Worksheet Charts from the Free Resource Library. Look under "Individual Worksheets"
Not a member of the HHO Squad yet? Scroll down to the light blue box at the bottom to sign up and get immediate access to the Free Resource Library.
---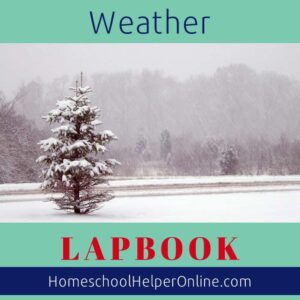 ---
Don't forget to pin this to your favorite Pinterest board so you can find it again later.