This free Ancient Egypt lapbook has twenty lapbook templates and many hands-on activities for you to use when completing your unit study of Ancient Egypt.  
The free printable pages include ones about pyramids, mummies, pharaohs, Jews in Egypt, and more.
Here are the resources used in the Ancient Egypt Lapbook:
Resource List:
Books by Level:
Books for All:
Other Resources:
Ancient Egypt Lapbook Activities:
 pyramids *geography / history / science / culture
 hieroglyphics *history
mummies *history / culture / science
canopic jars *history / culture
homes *history / culture / art
 furniture *history / culture / research skills
clothes *history / culture / art
work *history / culture / research skills
food *history / culture / life skills
religion *history / culture
entertainment *history / culture
What are these? *history / culture / research skills
Jews in Egypt *history / Bible / language arts
pharaohs *history
transportation *history / science
Egyptian math *history / math
Science in Ancient Egypt *history / science
tools *history / science
did you know
show what you learned
How to Complete the Ancient Egypt Lapbook:
There is a printable lapbook template for each of the twenty activities. As you read through the books, complete each template following the directions on the printable pages.  
There are also many corresponding hands-on activities.  There are links and directions for some of the activities while some of the directions are in the books listed in the Resource List. 
If you can't find the exact books, you should be able to find some on the same topics and you can search online for directions to the activities. 
There are enough activities to keep you immersed in Ancient Egyptian history for several weeks.  
Reinforce what you are learning with this fun Tomb Dash! File Folder Game.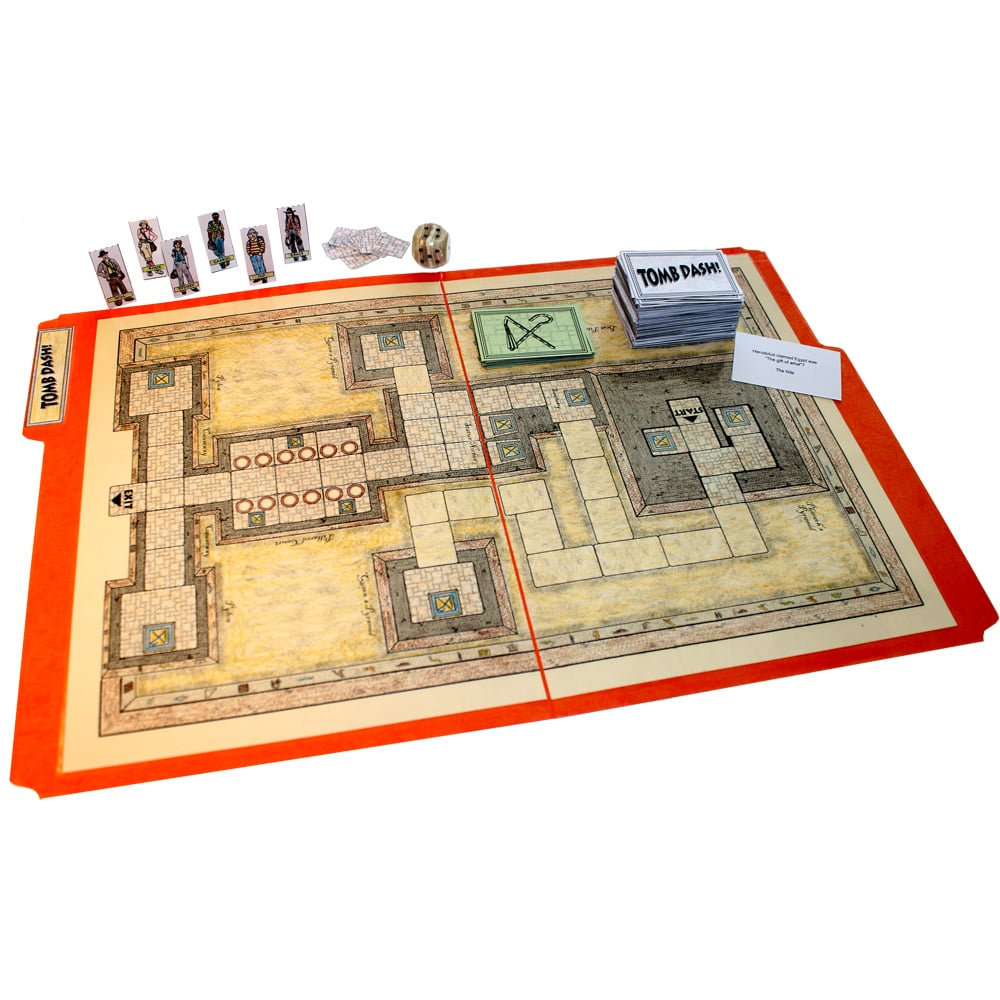 Activity 1: Pyramids
Pyramids are a well-known part of Ancient Egypt. Therefore let's take a closer look at them.
Questions to answer:
1. What are the 3 types of pyramids found in Egypt?
2. Where are they located? Draw a map and put pyramid symbols to show the location and kind. See page 8 in Pyramid by Eyewitness books
3. Why were the pyramids built?
4. What materials were used to build the pyramids?
5. How were the pyramids built?
6. What kind of treasures can be found in the pyramids?
7. Why did the Egyptians choose the pyramid design?
Hands-on: Make a simple step pyramid. Instructions can be found in Ancient Egyptians and Their Neighbors: An Activity Guide pg. 8
Activity 2: Hieroglyphics
Hieroglyphics often adorned the walls and artifacts in pyramids. In the printable booklet is a sheet with Cleopatra's name written out. There are directions on this sheet for you to complete.
Activity 3: Mummies
In the mini-book explain how mummies were made in Ancient Egypt. Why did they practice mummification?
Hands-on: Make a mummified Barbie 
Activity 4: Canopic Jars
What were canopic jars used for? What did the different lids on them stand for?
Hands-on: Make a canopic jar. You'll need self hardening clay and paints. Shape the clay into the shape of a jar. Set aside and let dry. While this is drying shape some more clay into the lid for your jar. Pick an image of a lid to copy. After both pieces are dry paint them to look like a canopic jar.
Activity 5: Egyptian Homes
Research and find out what kind of homes Ancient Egyptians lived in. Sketch some examples of the homes in your mini-book.
Activity 6: Egyptian Furniture
Identify the images of furniture the Egyptians uses. Give a brief description of what they were used for. See if you can find any more examples to add.
Activity 7: Egyptian Clothes
Sketch or take a picture of your Egyptian outfit you make and put it in your minibook.
Hands-on: Make a girl's long dress or a boy's short kilt. Instructions found inAncient Egyptians and Their Neighbors pp. 14-17 Make an Egyptian headband and collar.
Activity 8: Egyptian Work
What kind of work did they do? Write the different kinds in your mini-book. Then pick one to describe in your book.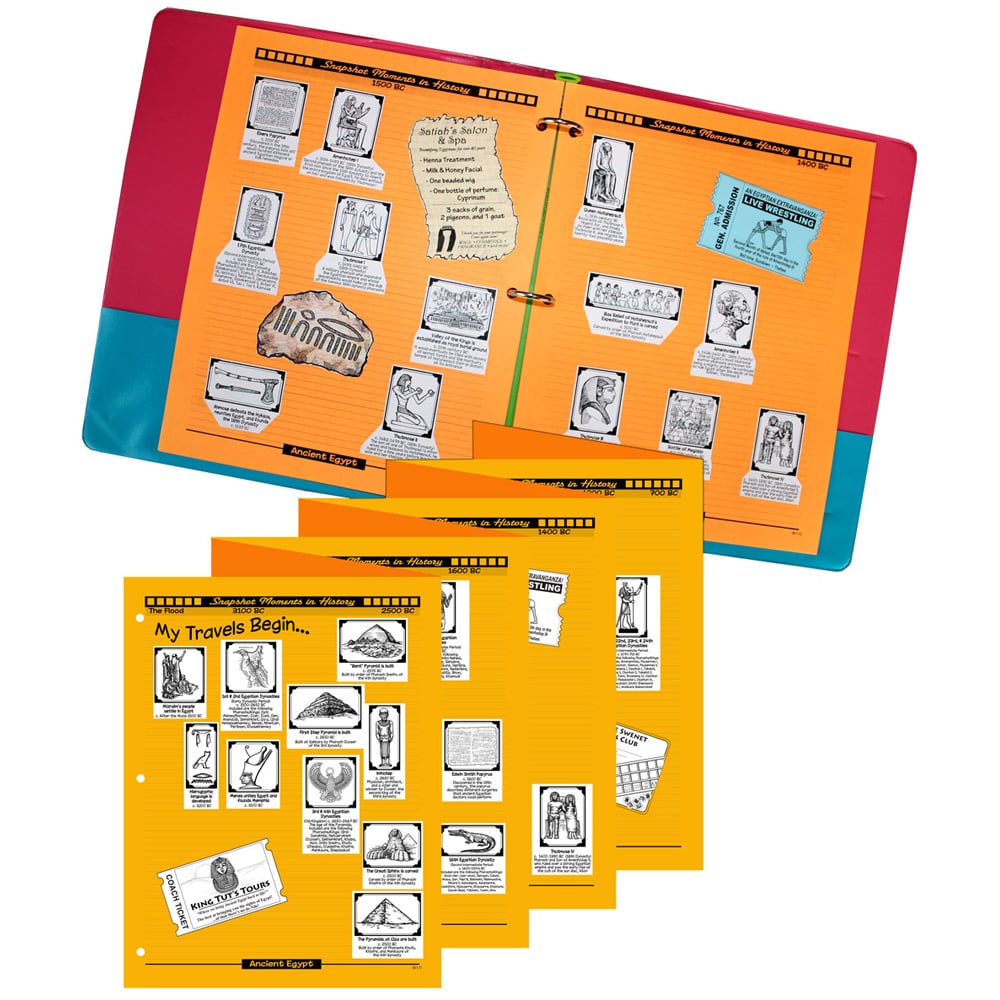 Activity 9: Egyptian Food
What was the Egyptians diet like? Was there a difference between poor and rich Egyptians diets? Make a list of each in your book.
Hands-on: Make overnight fig cakes. Instructions found in Ancient Egyptians and Their Neighbors pg. 37
Activity 10: Religion
What kind of religion did the Egyptians practice? List the different gods they worshipped and what each represented.
Activity 11: Egyptian Entertainment
What kind of things did the Egyptians do for fun?
Activity 12: Identification
What are these images? What form of entertainment did they use this stuff for?
Hands-on: Make a sistrum. You'll need a wire coat hanger, yarn, and metal washers. Bend the hanger into the shape of the sistrum. Now cut 3 lengths of string long enough to stretch across your sistrum, making sure to leave enough length to tie it on. Tie each end on to one side of the sistrum. Then string some metal washers onto each piece of yarn. Then tie the other end to the other side. Make sure it is pulled tight when you tie it.
Activity 13: Jews in Egypt
What role did Jews play in Egyptian history? Find the Bible verses that tell about the captivity of Jews in Egypt. Why did the Jews become slaves in Egypt? What hardships did they endure during their captivity? What things did God do to make the Egyptians free the Jews? If the Jews had not suffered at the hand of the Egyptians, do you think they would have been willing to leave Egypt for the Promise Land?
Activity 14: Pharaohs
What was the role of pharaohs in Egypt? What did the pharaohs believe themselves to be? Who are some of the most famous pharaohs?
Hands-on: Make an Egyptian Pharaoh Mask
Activity 15: Transportation
List the ways Egyptians traveled.
Hands-on: Make an Egyptian sailboat. Instructions found in Ancient Egyptians and Their Neighbors pg. 32-33
Activity 16: Egyptian Math
Make a chart to show how the Egyptians math. Explain how the Egyptians used math and what they used it for. You can find this information in Science in Ancient Egypt
Activity 17: Science in Ancient Egypt
Research and write about how the Egyptians used science in building the pyramids, astronomy and time, and medicine. What did we gain from the Egyptians?
Activity 18: Egyptian Tools
There are images of tools used in Ancient Egypt on the printable pages. Explain what these tools were used for.
Activity 19: Rosetta stone
 What is the Rosetta Stone and why is it important?
Activity 20: Did you know?
Come up with some facts to make a did you know book.
Here's one – The Egyptians trained monkeys to climb fruit trees to pick the fruit at the top. See what other interesting facts you can come find.
Activity 21: Show What you Learned
Show what you learned – make a display of all the things you have created. Also display your notebook or lapbook. Then make an Egyptian feast, dress in your Egyptian outfit, and invite some guests over to share your info with.
This Egyptian history creative writing newspaper is a great way to wrap up everything your students have learned throughout the unit study.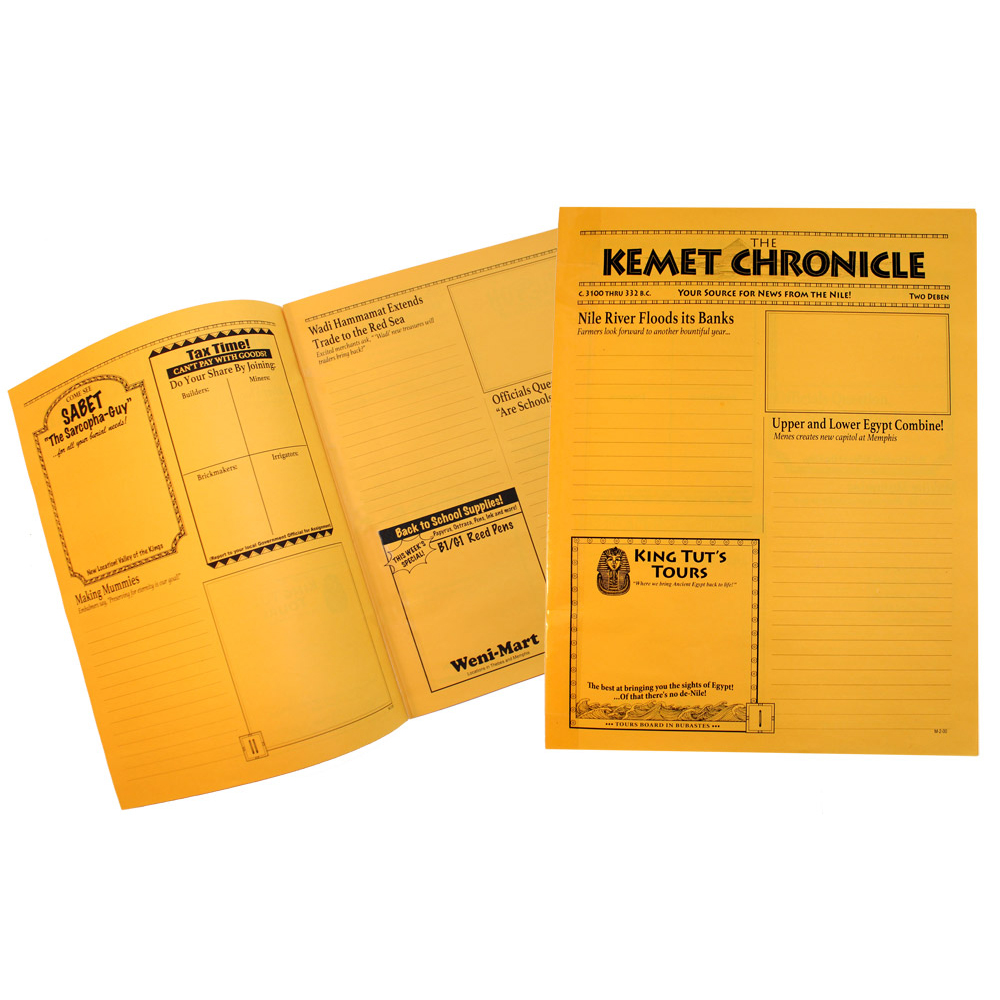 Download the free printable templates for the Ancient Egypt lapbook.
Related Pages:
Egypt Unit Study
Ancient Egypt Notebooking Page
another Ancient Egypt Notebooking Page