by Cindy West
As an eclectic Charlotte Mason homeschooler, nature study is near and dear to my heart – and the hearts of my children.  We have learned SO much about our Creator and the sciences through our weekly nature walks, all while touching on bits and pieces of almost every other subject under the sun, too.
You don't have to be a Charlotte Mason homeschooler to enjoy the benefits of nature study, though!
Kids in general love to get outside.  They need to get outside.  Fresh air, sunshine, and exercise keep us healthy and happy.  Something about a lesson outdoors just sparks the interest of my children in a way that no other lesson can.  My rambunctious son, especially, appreciates being able to run, jump and climb without being told to "sit down and get busy!"
Early on, I used to add nature study to the schedule when and if we had time.  It was an extra, a luxury of sorts, which came after the "real" lessons.
Several years ago, I challenged myself to incorporate nature study weekly since it was such an important part of a Charlotte Mason education.
Boy, was I surprised to find our scheduled afternoon of nature study not only became the most anticipated activity of the week but taught all sorts of subjects in more depth than I had ever imagined!
I found the studies naturally led to quality lessons in science, history, geography, art, reading, writing, math, Bible, apologetics and more. They also stimulate curiosity, discrimination and comparison skills, memorization, and research. Seriously, who could ask for more from one simple lesson?
My overall philosophy when asked how to study nature is, "Any way you like!" or "Whatever works for your children!" Some people like to get outdoors every day, some prefer to go on a dedicated weekly nature walk, and others choose to take one nature walk a month. Some people like to explore their neighborhood, while others enjoy taking mini-trips to nearby nature trails, parks or zoos. Some families enjoy the thrill of seeing what presents itself on a nature walk, while others prefer to head outside with a particular study goal in mind.
The most important thing, in my opinion, is that your children are immersed in and overjoyed with God's creation.  This is why the NaturExplorers studies I write offer so many varied ideas – like drawing and documenting in journals, completing scavenger hunts, experimenting, mapping and so much more.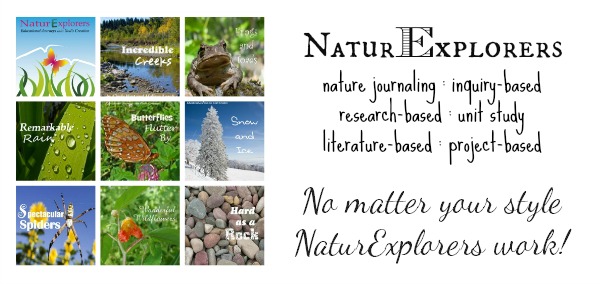 To get you started right away, here are three very simple, generic "plans" for adding nature walks to your homeschool:
• Take a simple walk (anywhere outside) with no planned purpose in mind. Pack a notebook of blank pages and sketch or write about whatever strikes a fancy.
• Take a walk with a purpose in mind – like finding signs of autumn, for example.  (Again, this walk can take place nearly anywhere.) Take along specific field guides or library books that will enhance the learning about the particular topic.
• Plan a seasonal study which allows you to take one nature topic and focus on various aspects about the topic over the course of a month, a season or longer. An example of this would be observing and documenting the changes in a single tree over a period of time.
For some specific ideas on various topics, I have written a free 10-day series with nature study activities that you can start today! The topics include erosion, creeks, trees, clouds, fungi, ponds, animal signs, rain, wildflowers, and birds.
I sincerely hope that you take some time to find the joy and wonder of God's creation through nature study this season!
You can read more about Cindy West's Homeschooling Journey on her blog, Our Journey Westward.